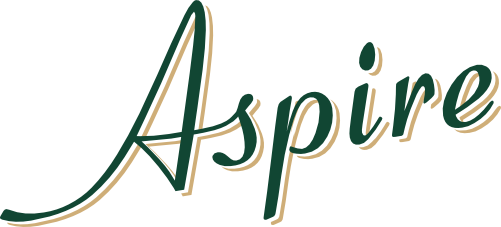 Aspire is the South East's largest private park that is free to the public. Spanning across 355 acres and combining meadows, mountains and riverside areas, Aspire boasts 18 miles of hiking and biking trails with varying levels of intensity. Alongside these exciting outdoor opportunities are plans for multiple wedding venues and event centers.
Furthermore, the park aims to include kayaking and canoeing experiences along the river as well as a dedicated dog "bark" area for pet owners. Visitors can also immerse themselves in the local cultural history by learning about people who influenced the area through memorial stories incorporated into Aspire's design.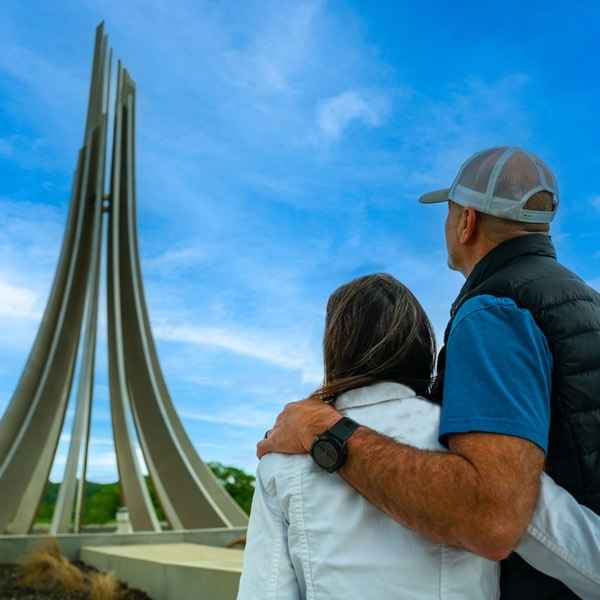 Service & Sacrifice Memorial
In heartfelt homage, we unveil the "Service and Sacrifice Monument" as a profound tribute to the courageous men and women who selflessly sacrificed for others and tirelessly served in our United States Military, safeguarding our nation's safety.
Thirteen majestic spires soar, symbolizing the original colonies, gracefully expanding into fifty states—an emblem of our nation's growth from cherished ideals to global prominence. Encircling the monument, plaques pay homage to the Army, Navy, Marine Corps, Air Force, Coast Guard, and Space Force, embodiments of valor.
Within this dedicated space, the statue of Wells Remy Crowther, "The Man in the Red Bandana," stands tall, honoring heroes without uniforms. His selfless sacrifice during the 9/11 attacks reverberates through time. An adjoining plaque narrates his extraordinary story, eternally preserving his bravery.
Nearby, the life-size replica of the Liberty Bell beckons—a powerful symbol of resilience, forged with fragments from the fallen Twin Towers, reminding us of our unwavering spirit.
This monument stands as a solemn dedication to all who made sacrifices for country and community, inspiring us to recognize the heroes within ourselves. May this acknowledgement stir our souls, evoking deep emotions and a lasting reverence for those who exemplify the very essence of humanity's finest.
The Great Lawn is a magnificent expanse of lush, verdant grasslands nestled within a Scenic setting. Offering boundless opportunities for relaxation and recreation, it serves as an idyllic gathering space for locals and visitors alike to unwind amidst nature's beauty.
This wide-open landscape provides plenty of room for families to enjoy picnics or play games with their children while couples stroll hand-in-hand on winding paths that meander through the area. On sunny days, you can often find groups practicing yoga, friends throwing frisbees or individuals relaxing among the trees.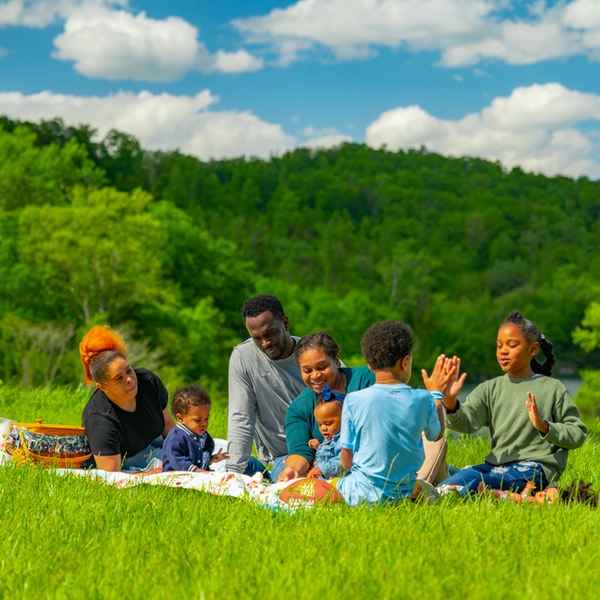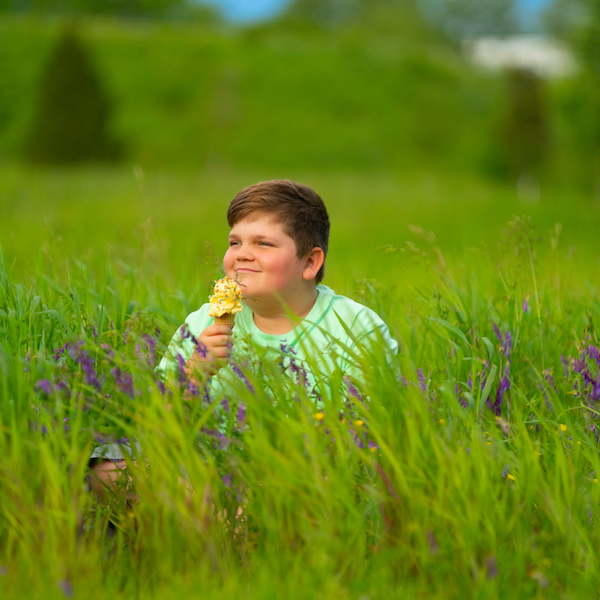 The Wildflower Meadow is a charming haven of vibrant colors, soothing fragrances, and buzzing pollinators that celebrates the boundless beauty and serenity of nature. Spanning across an expansive landscape within the park setting, this captivating area is home to a diverse array of indigenous wildflowers that form a stunning tapestry under the radiant sun.
Visitors are greeted by delightful bursts of floral tones swaying gently against soft breezes as they meander along well-maintained pathways. The ever-changing view entices photographers eager to capture fleeting moments or artists in search of inspiration among delicate petals and lush foliage. Driven by sustainable horticultural practices, The Wildflower Meadow serves as both habitat for native wildlife thriving gracefully with their surroundings promoting biodiversity throughout the ecosystem.
The Bark Park is a thoughtfully designed, canine-friendly space nestled within the scenic Aspire setting. It offers an expanse of securely fenced-in grounds for dogs of all breeds and sizes to frolic freely in a safe and stimulating environment while their owners socialize or relax nearby.
Divided into separate areas for small and large dogs, this off-leash haven enables canines to mingle with suitable playmates, encouraging friendly interactions among compatible size groups. Equipped with dog-sensitive water stations and waste disposal bins well-distributed throughout the premises so that pet parents are encouraged to maintain cleanliness effortlessly.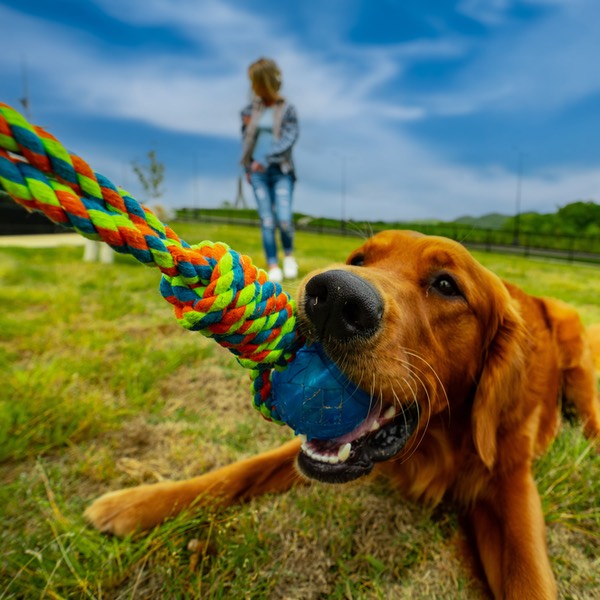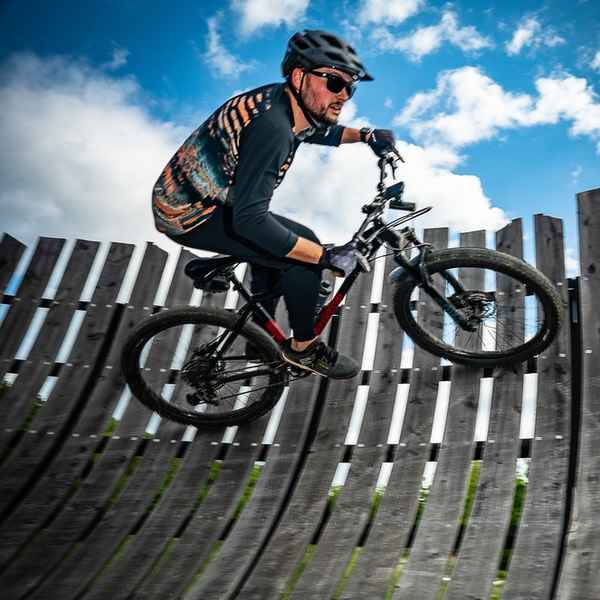 Grit'n Bank It Bike Skills Area
The Grit'n Bank It bike skills area captivates biking enthusiasts of all ages and skill levels with its thrilling layout that tests stamina and coordination. This carefully designed circuit flaunts an array of banked turns, elevated ridges, and roller-packed sections to challenge riders while improving their abilities.
Crafted using high-quality materials for enhanced durability and longevity, Grit'n Bank It places a strong emphasis on safety. This ensures enjoyable experiences with minimized risks for participants who return time after time. The track accommodates beginners navigating gentle rollers as well as advanced riders confronting more complex obstacles in rapid sequences.
The 18 Miles of Hiking and Biking Trails within the park provide visitors with a diverse range of paths, catering to outdoor enthusiasts seeking adventure or tranquility amidst nature. These expertly maintained trails meander through varied landscapes, encompassing a naturalized forest, rolling hills, serene meadows, and even alongside the Clinch River – offering breathtaking scenery for all who embark on this exhilarating journey.
Accessible to hikers and bikers alike, regardless of age or skill level, these trails serve as an opportunity for beginners looking for leisurely strolls alongside experienced adventurers craving more rugged terrain challenges. Signposted routes guide users towards appropriate options based on their preferences while ensuring navigation remains seamless throughout the exploration. Aspire's trail system also boasts stories of aspirational people, at the trail intersections, so you can familiarize yourself with our local history.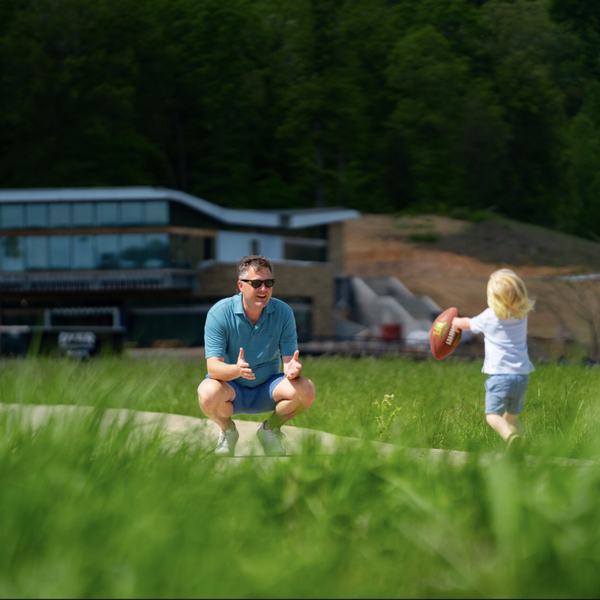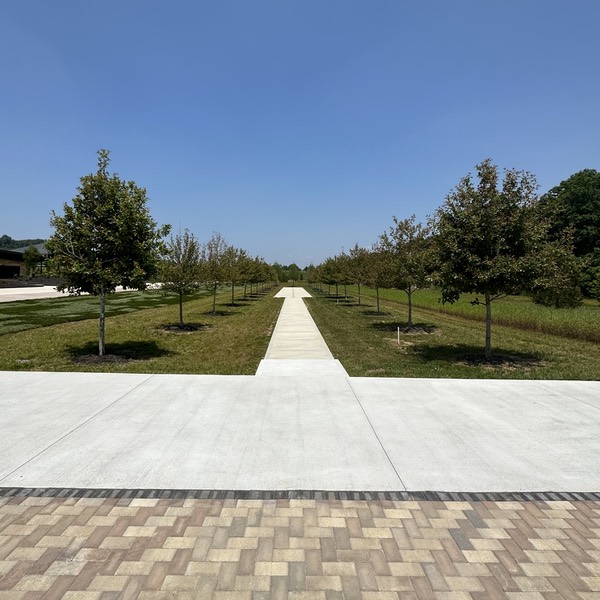 The Grove is an enchanting area that features clusters of young, up and coming, trees interspersed with carefully designed open spaces. This serene environment offers visitors a welcome escape from the hustle and bustle of urban life as they meander through shady paths under the protective canopy of plantings. The dappled sunlight filtering through leaves creates a tranquil ambiance, perfect for quiet contemplation, relaxation, or leisurely strolls.
The Adventure Playground is an imaginative space within the park designed to inspire creativity and stimulate physical activity in children of all ages. This innovative play area boasts an array of custom-built structures and features that go beyond traditional playground equipment – encouraging exploration, collaboration, and problem-solving among young visitors.
The Adventure Playground fosters socialization among diverse groups while nurturing self-confidence through shared experiences amongst peers. The lively atmosphere created by joyous laughter echoes throughout this vibrant space – instilling a sense of camaraderie as youngsters create cherished memories together.